From San Francisco Bay to Boston Harbor, shrimp cocktail's origins are claimed throughout the nation. While there's no official record of the introduction of shrimp cocktail to the American palette, many foodies agree that shrimp, at first, wasn't a main ingredient in the dish at all. Although variations differ depending on locale, most stories regarding the first "seafood" cocktail offer a version of this:
Just around the turn of the century, a grizzled old man sauntered into a bar after a hard day at work (mining, fishing, it varies place to place). He plunked down on a bar stool and ordered (in Clint Eastwood's voice, I imagine) a whisky and a plate of oysters. And here's where it gets interesting…. After downing the whiskey, he plopped the oysters into the glass and squirted onto them ketchup, vinegar, tabasco, horseradish and Worcestershire sauce. He shook the concoction, then plucked the oysters out one by and one and devoured them. The puzzled bartender asked the man what on earth he was eating, and he replied "oyster cocktail." As legend has it, oyster cocktail became the bar's featured dish the very next day. Sometime in the next few decades oysters were replaced with delicious chilled shrimp, and the spicy concoction spread like wildfire through the country.
Prohibition era added a modern twist to shrimp "cocktail". Restaurants, no longer allowed to serve alcohol, needed to find another use for their glass stemware. Creative culinary arrangements led to fruit and shrimp "cocktails" served artistically in wine, martini, and champagne glasses.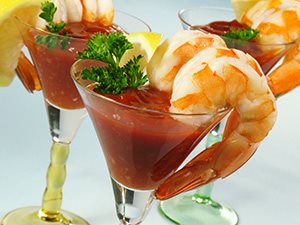 The shrimp cocktail was boosted into fame in 1959 by the Golden Gate Hotel in Las Vegas. The featured cocktail was served in a Sundae dish to their gambling patrons for a mere $.50. By the 1960's, shrimp cocktail was the featured appetizer; the centerpiece of tables from sophisticated New York restaurants to a suburban housewife's 4th of July BBQ.
Around 1965, shrimp was launched into stardom by astronaut Edward White on the Gemini 4 mission. White's daring attitude made him the first American to undertake a "space walk," where he was tethered outside the spacecraft for 20 minutes. This same daring attitude probably contributed to his tasting the dehydrated, rehydrated, vacuum-packed shrimp cocktail specifically designed by NASA engineers. White loved the shrimp cocktail, and it beat out other featured dishes (including pot roast and butterscotch pudding) to become his favorite.
With inspiration from White, many other astronauts soon claimed the dish as a favorite too. Six-time shuttle flier Story Musgrave is rumored to have eaten shrimp cocktail with every meal in space. In 1995, Endeavor shuttle astronaut Bill Gregory (after consulting veteran flier Musgrave) ate 48 consecutive meals in space accompanied by shrimp cocktail. The astronauts claim that the zesty dish helps enhance flavors that are otherwise diminished in space, where the effects of microgravity influence the sensations of smell and taste.
Nowadays, shrimp cocktail lands on the table at dinner parties, seafood restaurants, and steakhouses around the U.S. The dish's popularity remains strong. The Golden Gate Casino even celebrated selling their 25 millionth shrimp cocktail in 1991.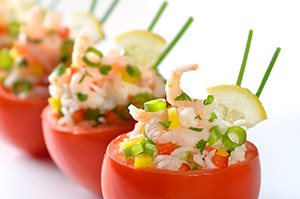 As with many things American, shrimp cocktail has been influenced by the multiplicity of cultures and flavors within our nation. Variations of the dish feature sliced avocado for dipping alongside the shrimp,and even a creative combo of shrimp, cocktail sauce, onions, and spices served inside a crisp bell pepper. Cocktail sauce concoctions vary by location too, and include the classic ketchup, horseradish, Worcestershire, vinegar combo with new twists including mayonnaise, lemon, garlic, lime, and even sriracha sauce. From the Gulf of Mexico to the Gulf of Maine, shrimp cocktail is a feature of American dining.
Sources:
Garber, Megan. "Astronaut's Favorite Space Food: Shrimp Cocktail." The Atlantic.Atlantic Media. April 3, 2014. Web. April 2014.
http://www.foodtimeline.org/foodlobster.html#cocktail